Instructional CD
Principles of Fasciocutaneous Island Flaps in lower limb reconstruction
This CD-ROM is an innovative learning experience, covering with text, audio and video the historical background to the development of such technique, with a range of cases to tax the surgeon at all levels of his/her experience.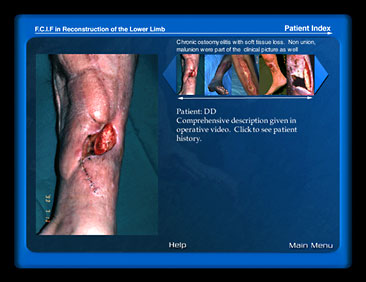 It introduces the operator the use of such reconstructive flaps in the lower limb.
It is an adjunct to further our knowledge when other techniques, such as microsurgical methods, have been found to be wanting or non-applicable in view of the clinical background or age of the patient. In reality it is something where other systems have failed, and must be part of one's repertoire.
Price: US $100

(All proceeds from the sale of this CD-Rom will be donated to the Australasian College of Surgeons)

View Sample movie from CDROM
You will require Quicktime to view movie.
Click on link to Download Now.

Purchase CD-ROM

For any enquiries or if you wish to purchase this CD-ROM email felix@felixbehan.com.au.